Date/Time
Date(s) - Thursday, September 23rd
5:00 pm CDT - 6:00 pm CDT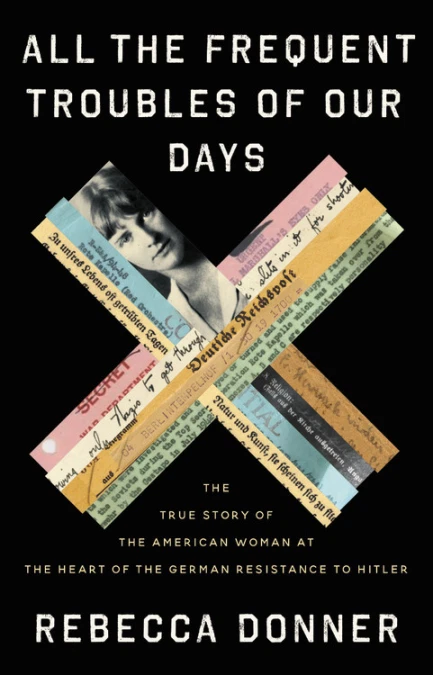 This program is in partnership with Boswell Book Company and the Nathan and Esther Pelz Holocaust Education Resource Center (HERC).
Join Rebecca Donner, author of an extraordinary new biography of Mildred Harnack, the Milwaukeean who became leader of one of the largest underground resistance groups in Germany during WWII. Donner is Harnack's great-great niece and has drawn on private family papers, previously undiscovered archival material, and declassified government documents to create this stunning book. In conversation with Sam Goldberg, HERC's Director of Education.
This program will be held virtually on Zoom. Register here. Order your copy of All the Frequent Trouble of Our Days from Boswell Books.
While enrolled in a PhD program in Germany, Harnack witnessed the rise of the Nazi party. She began holding secret meetings in her apartment, a small band of political activists grew into the largest underground resistance in Berlin. She recruited working-class Germans into the resistance, helped Jews escape, plotted acts of sabotage, and collaborated in writing leaflets that denounced Hitler and called for revolution. When the first shots of the Second World War were fired, she became a spy, couriering top-secret intelligence to the Allies. On the eve of her escape to Sweden, she was ambushed by the Gestapo. At a Nazi military court, a panel of five judges sentenced her to six years at a prison camp, but Hitler overruled the decision and ordered her execution.
In a starred review, Publishers Weekly calls Donner's book, "A stunning biography… Donner's research is impeccable, and her fluid prose and vivid character sketches keep the pages turning… This standout history isn't to be missed." And from celebrated literary critic James Wood, "Rebecca Donner has written a beautifully rich portrait of a very brave woman. While never less than scrupulously researched, this biography explodes the genre of 'biography': experimental but achieved, Donner's story reads with the speed of a thriller, the depth of a novel, and the urgency of an essay, like some deeply compelling blend of Alan Furst and WG Sebald."
Rebecca Donner is author of the novel Sunset Terrace and the graphic novel Burnout. Her work has appeared in the New York Times, Bookforum, and The Believer. Donner was a fellow at the Leon Levy Center for Biography and is a graduate of the University of California at Berkeley and Columbia University, and has taught writing at Wesleyan University, Columbia University, and Barnard College.
All Events >>